A couple of years ago we discovered a little town on the coast of Oregon where the temperatures were comparable to South central Alaska where we had spent many years. It was the summer of 2017 when San Francisco was experiencing temperatures of 105 degrees F. We were on a trip driving the coast through triple digit temperatures until we hit this coastal town where it was a mellow average temp in the upper 60's and lower 70's.
Relief! We were headed to Portland, but decided to stop the travel trailer and stay a while.
Now, in the summer of 2019, we decided to come back and try to avoid the heat that the summer promised in the desert of Western Colorado, where we had been living for a year and a half.
About a week ago the winds shifted and the heat of the inland valley was blowing down the river that runs at our RV Park. The temperatures were in the 90's. That may not sound too bad to some of you, but it is not usual for here.
We made a bonehead move and blew our own breaker because we were running the air conditioner (not use to that), had the car plugged in (also new to us), and then turned on the microwave. Oops!
But a few minutes later it happened again. Not us this time, but the entire side of the Park. Everyone had their air conditioners on as well.
As a Climate Reality Leader, I was thinking about this a bit differently than others may have been. I looked around and saw rows of tin boxes whose inhabitants were newly retired on up to having had been retired for 25 years. They live in cool environment and are not used to this sudden heat.
Now we are all sitting in our tin boxes without air conditioning. And I happen to know that more people die from heat extremes than any other extreme weather events combined.
News traveled through the Park that both main transformers had to be replaced. You know the kind that sit on the corner that are about 3 foot high and 4 foot wide. Usually green, or in some cases, painted by local artists. I was thinking, "This could take forever!"
The energy company had us up and running by 11 pm, so all the air conditioners came on again. Because it was still a bit warm at this time of night for this group of people.
The next morning we received the notice you see in the image above. The new transformers were still not large enough to handle the load. Because it is not suppose to be this hot in this part of the world!
Even though it was just a few days, it had big consequences. A larger transformer was put in, and luckily no one to my knowledge suffered heat stroke. I say luckily because the nearest hospital is 25 miles away.
The average temperature here is 67. We have gone above 90 several days. We join many other communities in the world that are experiencing the same thing. It is not just hot outside. It affects local infrastructure, is a major health concern, and affects the local economy.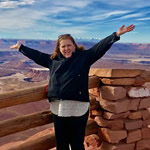 Sandi Sturm
Co-Founder
I am an author, teacher, and Climate Reality Leader who enjoys being outside as much as possible exploring our natural landscapes. My current focus in on our website, https://EarthFocusGroup.com with a mission: "We see a world of people who understand our changing climate and that individual actions affect everyone on earth."
This mission is currently satisfied by these programs:
Https://EnvironmentalGroups.US with the mission: "To build capacity around environmental groups in the U.S. so we can educate more people about climate change and empower them to participate in solutions."
Earth Prints for Families community to bring together like-minded people who want to reduce their carbon footprint 50% by 2030.
Book, "Family Survival Guide for Our Changing Climate : 52 Empowering Actions You and Your Family Can Take Now!"
My husband, Wayne, and I live full time in our RV, where we enjoy visiting as many National Parks as we can.